After the heavy of last
week's post
, I'm going to offer you something a little lighter today...equally mindblowing, but much lighter ;)
But before I do so, I'd be majorly remiss if I did not make this following statement: Thank you, loves! Thank you to those with whom I've long been acquainted, thank you to those I'm just getting to know, and thank you to those I don't know at all. Your feedback has been overwhelmingly supportive, bolstering me to write more freely, well, to write more, period. And yet, some of the confessional conversations that followed that post have further reaffirmed my stance that:
... as grateful as I am for those sideline nuggets of affirmation, these hallway assents to truth in hushed voices, these are the truths that need to be testified boldly, bravely, up front and center, and from people who've experienced the darkness and its unrelenting pursuit for their souls to shake the scales regarding depression from the eyes of everyone...
So, there is more to come on my journey witht depression and my counterpoints to some of the more conventional stigmas that may be out there. Stay tuned.
For now, though, I bring you a plot twist that my younger self would never have anticipated.
I have somehow become a
morning person
. What is happening?!? I used to subscribe to truisms such as this: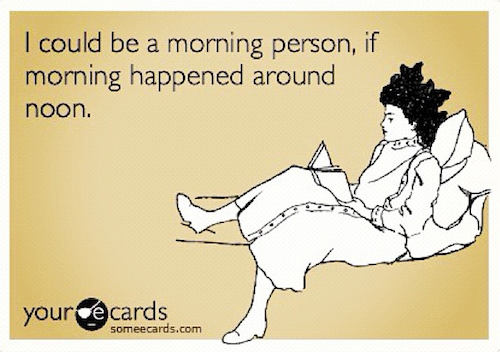 Oh, I still love to sleep in. Love to stay up late, love to cuddle up in the evening and unwind, but that's just it.
Whereas in the past I would just begin to get my energy in the evening and start grandiose projects (and finish them, even), I now am winding down in the evenings and, increasingly more, find myself yawning at 9:00pm.
I AM ONLY 35!!! HOW DID THIS HAPPEN?!?!
In case I wasn't ready to admit defeat, I give you the overwhelming evidence of this transformation, by the numbers of this morning.
5:30 am - 1 alarm, 1 snooze button pushed
5:36 am - 1 rebuff of the snooze button's grace, I couldn't sleep and got up before claiming those extra 4 minutes of sleep
2 pubescent middle schoolers awakened
1 lb of sausage, 1 bag of hash browns, and 9 eggs scrambled and set to cook on the stove.
1 load of dishes unloaded

that's a lie - that was simply wishful thinking - didn't actually happen

18 breakfast burritos assembled, individually wrapped and placed in the freezer to grab and go later this week
Supervision of 2 kid lunches being packed (this is an improvement over the last 2 weeks where I ended up making them!)
3 humans fed (the aforementioned 2 pubescent kids, and 1 husband)
1 cross country uniform found, when the plaintive cry of, "Mom, I can find my uniform," was heard, despite my urging said child to get it ready last night.
1 book order signed
2 school picture orders signed
1 XC spirit wear order signed
4 checks written for all orders listed above
2 kids out the door on time (6:30 am)
1 reluctant kindergartener awakened (while he loves school, he asked if he could have just one day skipped this morning. Uhm, no), dressed and fed
2 adult lunches packed
1 kindergarten lunch packed
1 bus stop dropoff
1 margarita chicken freezer meal dumped into the crockpot
2 fingers crossed that it still resembles the original contents after a day of slowcooking
1 harried woman fed, showered*, dressed and made up. *showered = dry shampoo applied, sponging off the smellies, and deodorant applied. I can't do it all!
1 blog post written
And off by 8:30 this morning.
Phew!
Where did this kind of productivity come from?
I have never, ever, considered myself a morning person in all my life. But this is the third year of middle school mornings (which are ridiculously early, harmfully so according to
this study
) and like all great transitions, this switch toward diurnal living was facilitated by necessity. Also? Coffee. Obscene amounts of coffee consumed helps greatly.
I will be dead tired by 8:45.
A.M.